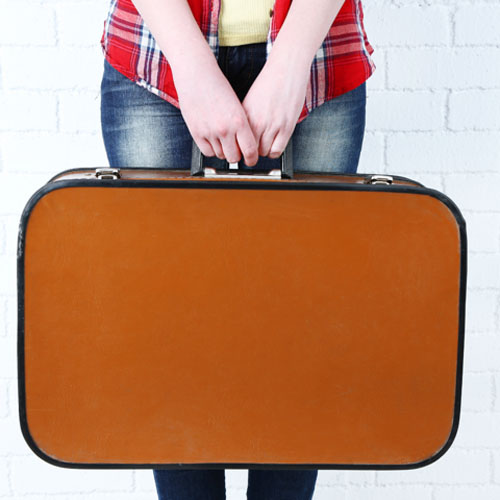 Winter is coming. As Dr. Fauci has warned – we all need to prepare for a "world of hurt" over the coming months. Nowhere is this more starkly felt then in the hospital – by patients, both Covid and non-Covid and the frontline staff who care for them. To add to the hurt, all hospital patients must prepare to be alone, whether in the ER or once admitted, because zero visitation policies may be in place as infections surge. That means no visitors at all.
This checklist is for anyone who must go to the hospital during the coronavirus pandemic and has the time to prepare and pack a hospital go-bag. Take the bare minimum. Only essential items. Your cellphone to keep you connected. And chargers. Important paperwork. Hand sanitizer. A sleep mask. Batteries for your hearing aids if you wear them. Only the necessities. In pre-Covid times, patients had been encouraged to bring a favorite pillow, shawl, etc. With the virus raging, these items should stay at home.
Bring in your "Go-Bag":
1. A valid photo ID
2. Insurance Card or copy of front and back.
3. A completed At A Glance Health Information Summary – link here. This summary is a one page document that gives the hospital team only the most important need to know medical information about you. Make sure your family has a copy of your form once you fill it out. If you are nervous about getting your medicines right on the form, you can also snap photos on your cellphone of each pill bottle label.
4. Your healthcare proxy form and living will if you have them.
5. Cell phone and charger. Especially important is to also bring a fully charged travel charger if you have one. A 4-6 ft extension cord is also a good idea because you will want to keep your cellphone on your nightstand or tray table and an outlet may not be easy to reach. Don't assume nurses or aides will always have the time to charge your phone for you, especially as hospitals are trying to deal with severe staff shortages.
6. Any sensory or mobility aids you use: hearing aids, glasses, dentures, reading glasses, cane. Make sure all cases are labeled and guard them – these are often lost! Make sure staff knows you rely on these – you can't communicate effectively if you cannot see or hear them. You can't get adequate nutrition if you cannot eat. You are more at risk for hospital delirium if you are unable to use your sensory aids.
7. Hand wipes for your hands, phone and high contact surfaces like the tray table and bed railings. Also a bottle of hand sanitizer for your nightstand. Why? Hospitals are a petri dish of germs and you may not be able to get up and wash your hands if you are bedbound.
8. A sleep mask and ear plugs – hospitals are noisy, brightly lit places. Extra socks – hospitals are cold places because of all the medical equipment.
9. Basic toiletries though the hospital will give you with a toothbrush and toothpaste.
10. A bottle of water, snacks and a sweater – prepare for a long wait in the ER or admitting. No patient is moved to a floor or unit without first testing negative for Covid-19 – adding to any wait time.
Adapted from The Patient's Checklist: 10 Simple Checklists to Keep Safe, Sane and Organized. © 2020 Elizabeth Bailey