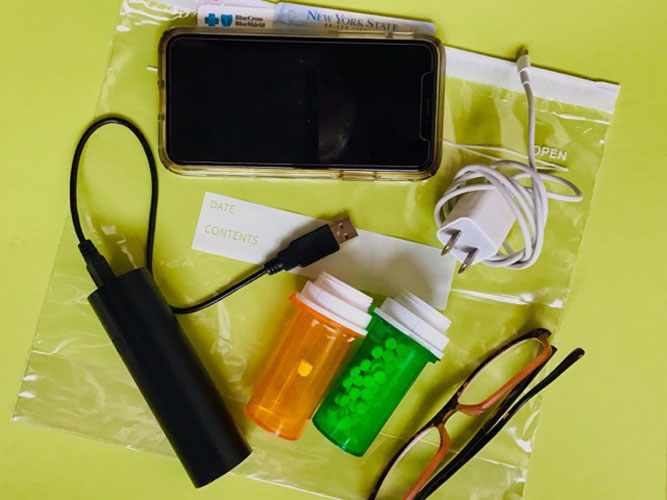 You never know when you might face an emergency medical crisis. At the height of the first coronavirus surge in the Northeast, my husband took advantage of a beautiful May afternoon and went out for a bike ride. He had a terrible freak accident and broke his back, neck and collarbone. As the EMTs were loading him into the ambulance, strapped to a back board and fitted with a neck brace, it didn't sink in that would be the last time I saw him until he was discharged from the hospital – even though I was aware that hospitals in our area had zero visitation policies. My instinct was to go with him, be at his bedside and protect, comfort and advocate for him. I had every intention of following the ambulance to the hospital but the EMT, having been in this situation with families too many times during this public health crisis, gently said "You won't be allowed in the hospital. Stay by your phone."
As Covid-19 cases continue to explode across the country, we face a long, hard winter including zero or restricted visitation policies that are the new norm for hospitals. That means all patients – covid or non-covid – are alone. If someone in your family suffers a traumatic accident or falls seriously ill, the last time you may see them until discharge is when they're being loaded into the ambulance.
That's why everyone needs a ready-to-go streamlined small packet that can easily go with them in an emergency situation. Something that can immediately provide the ER staff with only the most essential health information about you or a loved one. Something that also contains a cellphone and charger – key to staying connected. A traditional hospital go-bag, that might contain your slippers and such, is too cumbersome for ERs under siege from the virus. I handed the EMT a small packet for my husband – what I call an Emergency Go-Baggie – a stripped down version of a hospital Go-Bag.
I am trained as a Patient Advocate so I knew I had to hand off to the ambulance team only the most essential items for my husband. Small and portable. I wanted the Emergency Department staff to have the important health information they needed about my husband – at a glance. I wanted my husband to be able to stay in contact with us – that was it. So, I had created emergency go-baggies for everyone in our family and kept them in the hallway closet.
Here is how I put together his emergency go-baggie using a one-gallon zip-lock bag:
1. On the outside of the baggie I wrote, in sharpie, his name, address and date of birth. I also wrote my name and cellphone (and noted I was his wife and primary contact).
2. In the baggie I put a completed My At A Glance Health Info Summary –download my simple form here. This form is a one-page summary of only the most important health information that emergency room staff can take in on the fly.
3. I put in a copy of his Driver's License and a copy of the front and back of his insurance card – there may not be the time or opportunity to put in the actual ID or insurance card and I wanted the information at hand.
4. Cell phone, charger and fully charged travel charger. A cellphone is essential during the pandemic. The telephonic relationship is the new hospital norm for all patients – covid and non-covid. I had a charger and travel charger already in the baggie and added his cellphone right before they loaded him into the ambulance.
5. If you rely on any kind of sensory aids then pack labeled cases, batteries, etc. My husband needs reading glass so a pair went into his go-baggie.
We are confronting an unprecedented public health crisis in the US with no end in sight. Now is the time to prepare these streamlined emergency go-baggies for you and those you love and store them in a grab and go place ( a hall closet by the front door, etc.) as you may only have a moment to hand off this crucial "need to know" packet to the ambulance team.