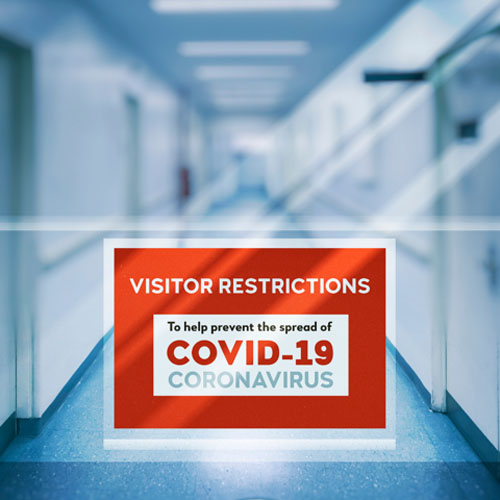 Injury, illness and chronic conditions are not on pause while the coronavirus rages out of control. What is on pause, however, is a family's ability to care for and protect a loved one in the hospital. As a patient advocate dedicated to helping patients and families navigate complex hospital care, restricted visitation scares the hell out of me.
Hospitals across the country have understandably implemented highly restrictive visitor policies to prevent the spread of infection. All patients, not just those who must be isolated because of Covid, face being alone in the hospital while their families struggle to care for them remotely.
Families are the critical linchpin to providing safe, patient-centered care, but hospitals have thus far not implemented adequate systems to keep families in the critical care loop – instead they rely on individual doctors and nurses to meet this pressing need.
Without active family involvement, the most important layer of defense against medical error is absent. Families are the best patient advocates – protecting what matters most to their loved one because they always see the person first, the patient second. Families share vital information with doctors and nurses about who the patient is in life. And families drive comfort care – the high-touch in the high-tech setting.
When families cannot be at bedside, safe, whole-person patient care is in real jeopardy in the chaotic rush of the hospital. And patients will suffer because of it.
I experienced first-hand the realities of remote caregiving when my husband was hospitalized after a serious cycling accident during the height of the first wave of the pandemic. And it wasn't pretty.
It quickly became clear to me that I had to monitor complex care over the telephone. Zero visitation means that families will not be there when doctors round or nurses dispense medications. They won't be there to ask questions or voice concerns. And they won't be there to provide all-important comfort care. Daily interactions with the medical team are crucial for building trust, mutual understanding and meaningful collaboration between patient, family and the hospital staff.
How, in this age of remote caregiving, do we focus on the human being at the center of any serious medical crisis? I believe checklists are a tool that can help families during a medical crisis. I have used them for years to help patients safely navigate a hospital stay and have written a book that provides this user-friendly roadmap, The Patient's Checklist.
Checklists can help families navigate this current landscape where time is even more limited, staff is even more overworked and distracted, resources are even more scarce and hospitals are even more chaotic environments.
Preparation and persistence by family caregivers is imperative when the telephone is your only conduit for information. Checklists provide incredibly useful action plans under these unprecedented circumstances to manage and monitor care. Checklists will help you focus by providing important prompts and reminders. Checklists don't catalogue everything. But they focus on the most important tasks at hand. And they are easy to use. Airlines, hospitals and NASA, among many high-stress, highly technical industries, rely on simple checklists to minimize human error and communication breakdowns. Patients and families need them too.
Over the next several weeks, I will share in my blog posts checklists and tip sheets specifically adapted to contend with the burdens, obstacles, fears and stresses that families and hospitalized patients encounter during this time of remote caregiving. Here is the first important form to have at hand:
My At A Glance Health Information Summary: Click here to download